---
Exhibition: «Exhibition: Now & Then» Jack Troy«
On View: October 27th, 2022 – November 20th, 2022.
Location: Climenhaga Building, Aughinbaugh Gallery, 1 College Ave., Grantham, PA 17027, USA
---
Jack Troy holding a locally owned copy of a salt glazed pitcher made in 1974 and purchased for the permanent collection of the Smithsonian Institution's Renwick Gallery in Washington, D. C. This is Jack's 60th year as a potter, and the 54th anniversary of the first ceramics class he taught at Juniata College. This and other pieces will be shown at Troy's first retrospective exhibition, "Now and Then," this month at Messiah University, in Mechanicsburg, PA. The opening reception is at 4:30 pm Friday, October 28th, at Aughinbaugh Art Gallery, on the Messiah campus. The event is free and open to the public.
When Messiah University's Gallery Director, Brian Menkis, offered Troy a solo exhibition one year ago, the potter began thinking about assembling a group of pieces owned mostly by local friends and patrons who have collected his work since it was first exhibited in the late 1960's. He is grateful for their willingness to loan the approximately 40 pieces in addition to nearly that many from his own collection.
Troy and his family moved to the area in 1967, when he directed Juniata's freshman composition program and taught courses in American and British literature and writing. Introduced to the potter's wheel while teaching high school English near Swarthmore, PA, in 1961, he began making pottery in the cellar of a rented farmhouse in Big Valley, and subsequently taught beginning ceramics classes in the basement of Shoemaker Galleries on Juniata's campus in 1968, eventually moving the studio to the former Reynolds Hardware and Construction Company at the corner of Cold Springs Road and College Avenue in 1972, when he left the English Department and began teaching ceramics part time until 2006, when he stopped teaching at Juniata, and became "un-retired." He continues teaching workshops, including two this past summer at Washington Street Pottery School, Harpers Ferry, WVA and Castle Hill Center for the Arts in Truro, Cape Cod, MA. To date he has taught more than 250 workshops for potters worldwide. He and his partner, Carolanne Currier, recently judged the 40th Strictly Functional Pottery National ceramics exhibition currently on display at the Lancaster Museum of Art.
The pieces on exhibit at Messiah will trace Troy's work through six decades and will include examples from gas-fired reduction and salt kilns as well as wood fired kilns, including Pennsylvania's first anagama-style kiln built at Juniata College in 1978. In addition to archival pieces, the exhibition will include pottery made during the past two years.
As Messiah's Visiting Artist, Troy will meet with a poetry-writing class, read from his own work, and demonstrate altering wheel-thrown pieces for students studying ceramics.
Jack Troy's 41 "mostly annual" pottery sales at his home between 1978 and 2019 were happy events, featuring an average of 300 pieces of his pottery for a total of approximately 12,000 individual pots over the years. He is satisfied knowing that at every mealtime there's a good chance someone somewhere will be eating or drinking from one of his pots.
Brian Menkis
Gallery Director | Studio Art Technician
Messiah University
Mechanicsburg, PA
Department of Art and Design
The Galleries at Messiah University
---
---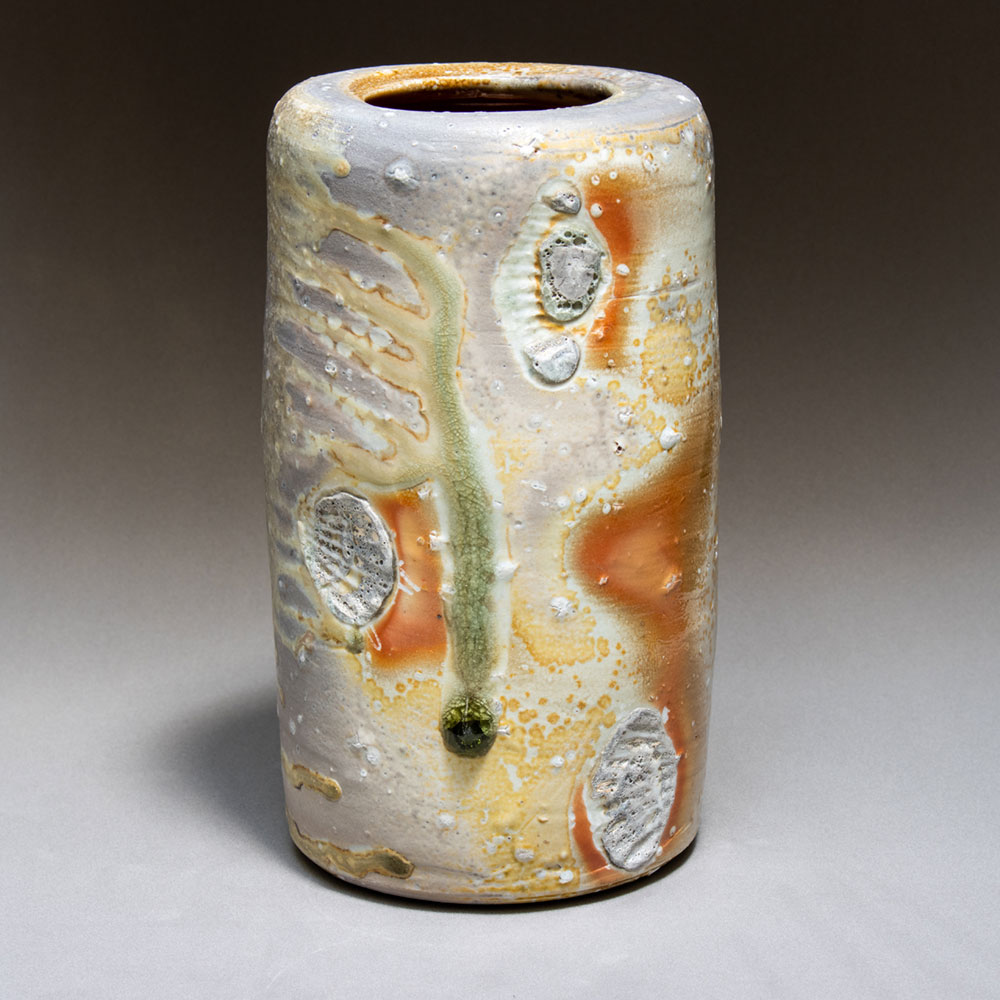 ---
Woodfiring.net thanks to Messiah University for their collaboration in the preparation of this article.
---
Forbidden the total or partial reproduction by any means, without written permition.
---