---
---
Bucharest, Romania based Galateea Contemporary Art gallery is hosting two solo shows «Folding Memory» and «Of the Earth» by international artist Vlad Basarab.
The «Folding Memory» Memory researches memory found in clay and ceramics, testing their physical, chemical and metaphysical limits. Extended on three continents, Asia, North America and Europe, the project was initiated in 2017 at Jingdezhen Ceramics University, China culminating with a solo show at China Ceramics Museum, Jingdezhen (2019-2020).
The second part of the project, entitled «Of the Earth», will take place between November 23-29, the opening of which will be marked by a dialogue with the writer Bogdan Ghiu on Wednesday November 23, at 19:00. The works, present in the Of the Earth exhibition, are predominantly utilitarian made from unique combinations of North American stoneware clays fired in wood and salt kilns in North Carolina during a residency at Starworks Enterprise, USA.
In the exhibition Folding Memory, there are works created at the International Ceramics Studio, Kecskemét, Hungary in 2020, as part of an exhibition project carried out in collaboration with the Romanian Cultural Institute in Budapest and Seghedin.
The project has as partners: Cartierul Creativ, Basarab Art & Science Association, Museum of Ceramic Art, New York (promoter of Ceramics World Destinations), International Academy of Ceramics (IAC).
«The fact that Ceramics itself is an endeavor laden with magic and archetypes is a common place. Yet, each presence of Vlad Basarab's works in the public space, brings us back to these perceptions, to this reality. Few artists manage to be so poignant in the role of a Magister ludi, Master of ceremonies and Thaumaturge. It is perhaps the attribute of matter and ritual of craft, topped by layers of culture, science and ingenuity.
A special understanding of matter and process make his creative discourse an ever-surprising plea, but paradoxically equal to his previous presence through coherence and consistency. Each individual piece finds in the viewer a way of understanding, a means to arouse and the impulse to decipher, to penetrate further, deeper than the frozen epidermis of the clay. Each scenography, composition, installation recomposes and retells, always unsettling. Folding and carrying us into the labyrinth of memory, Vlad Basarab charges us, the viewers, with the responsibility of carrying on, as a gift of his experience, all the memories of the world.»
Simona Tănăsescu, Director of the Romanian Cultural Institute, Budapest, Hungary
» Vlad Basarab is one of the best Romanian (not only) artists (not only) of his generation, of an assertive maturity and an explosive originality, and if I write here these few lines it is at the same time to express my own enthusiasm and to awaken that of others. Through what, with full certainty, we could already call his oeuvre (Gesamtkunstwerk), the still young artist relaunches, in an age dominated by visual, performative, neo-representational or already digital art and artists, the notion of plasticity at the same time primordial and fundamental, so by working with matter and with the memory inscribed in matter, which he aims not only to save, but also to relaunch, to work with it, to create with it, to literally make it dance and fly. Working mostly with earth and fire («playing with fire», as they say in Romanian), but recently adding water, we could consider Vlad Basarab as not an elementary artist (which would not be at all displaced), but rather «elemental». Another important feature, which, in my opinion, could define the singularity and extreme present, Anthropocene if you will, of this work (oeuvre) in full motion is the fact that it brings together in the same gesture the combined research of nature, techniques and, therefore, of culture each time in connection with an environment and a unique «soil» from a historical-cultural point of view, which he extends through the investigative works he creates: Vlad Basarab immerses us in a pre-history, every given time both local, therefore singular, as a medium, and universal through human technical-experimental fervor, in order to resume and re-make our own history, its controlled spontaneity and what he calls «provoked accidents», relaunching the old through the freedom of the new, of the living. These works manage consequently to express the soil (and the Earth) as temporality and as duration ensured by «continued» creation. Earth-writing.»
Bogdan Ghiu, writer, translator, art critic
---
Galateea Contemporary Art gallery's broad scope is promoting Romanian contemporary ceramics in an international context, by encouraging partnership and collaboration with similar galleries and international art centers. Its exhibition program is currently coordinated by a group of enthusiastic group of local ceramists that initially had the initiative of setting up a dedicated exhibition space. A recognition of established artists, promoting younger talents and paying homage to masters. An ideal place for challenging encounters in a vivid international context debating the new role of ceramics and its relationship with the visual art in general. An instrument for educating the public at large in order to make this fascinating art of the fire better perceived and understood
---
---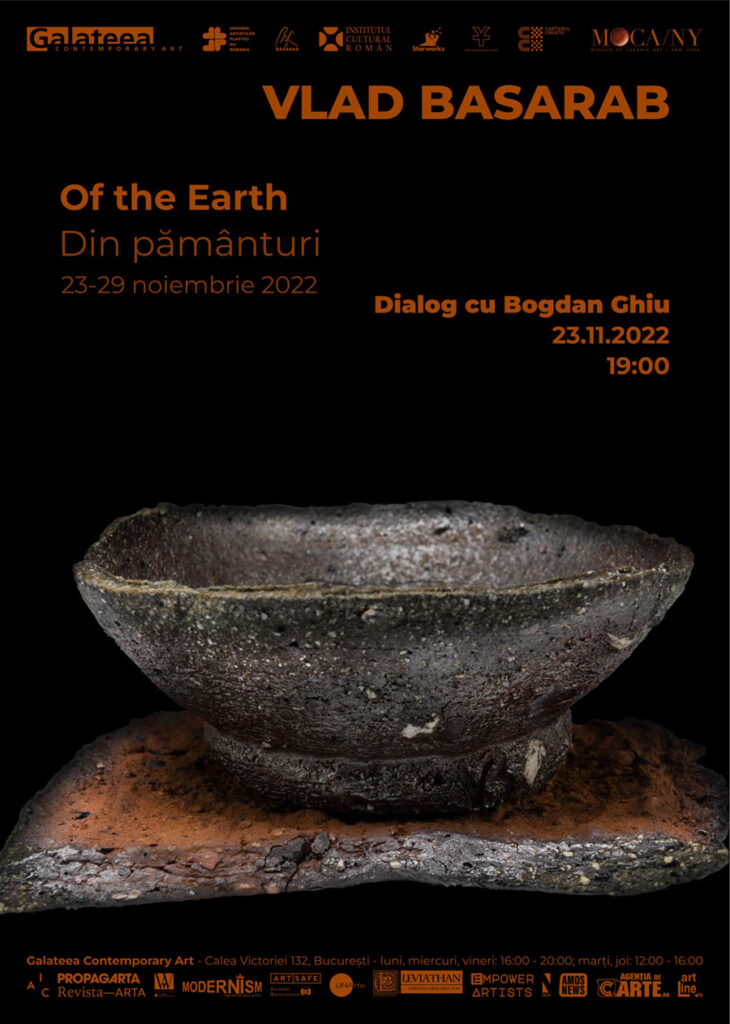 ---
Woodfiring.net thanks to Galateea Contemporary Art for their collaboration in the preparation of this article.
---
Forbidden the total or partial reproduction by any means, without written permition.
---